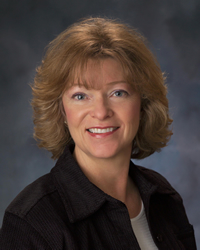 Sherry Linnerooth is the Professor of Horn at Montana State University and is principal horn of the Bozeman Symphony. Sherry teaches horn at the Flathead Lake Music Camp, is the founder of the Montana State University Horn Ensemble, is a member of the Bozeman ParForce Ensemble and has performed with the Fargo-Moorhead, Grand Forks, Helena, Butte and Billings Symphonies. Sherry performs with the Intermountain Opera Association and the Montana Ballet. She has presented sessions and is a member of the Montana Bandmasters.
Sherry is the Eckroth Music-Bozeman, Montana Store Manager and School Sales Representative in Western Montana. She is a graduate in Music Education from Concordia College in Moorhead, Minnesota. She has taught public school music in Fargo, North Dakota and Bozeman, Montana. She is active as a soloist, clinician and educator.
Sherry has served as a mentor to teachers and a friend to Music Education during her 23 years with Eckroth Music.